Last weekend was my annual girl's weekend outwith my friends. THis year it was not one, but two nights of pure awesomeness. I know these highlights will mean nothing to the general public that reads my blog--but this was the easiest way I could journal it and get it to my friends.
My highlights from the weekend:
#1 Marlo surprising us with Lenor
#2 Hilarious drunk man in the pool
#3 T.P.ing as an adult
#4 Staying up until dawn and rolling into Bashas at 6:30 a.m. for donuts
#5 Only going on 20 minutes sleep Saturday
#6 Darcy's stories involving hookers and Care Bears
#7 The ice cream tower
#8 Lazy River
#9 Staying until the last minute of checkout
#10 Getting a text from my husband telling me to not go to church, that he'd handle it and i could take a recovery nap
#11 Strawberry Coladas
#12 Snacks, treats, snacks
#13 Finally falling asleep for a little afternoon nap on Saturday
#14 Staying up until 2:00 a.m. the second night
#15 laughing, and laughing, and laughing
#16 Lenor's Bib story that made me cry with laughter
#17 Sarah doing my hair
#18 Wearing a white t-shirt, because I didn't have any kids there to get it dirty.
#19 Getting cozy with Molly and Cicily
#20 Squeezing into the clown car to go get ice cream
#21 Kizzy stealing MY PURSE
Seriously--everyone needs a weekend with the coolest/chillest girls on the planet.
You guys are the best.
ANd shout out to my husband for not just being ok with me going, but happy for me--and creating a weekend of fun for the kids--and hooking me up with that nap on Sunday.
And just in case you didn't believe me, here is a shot of Darcy and I at 7 a.m. after our donut run.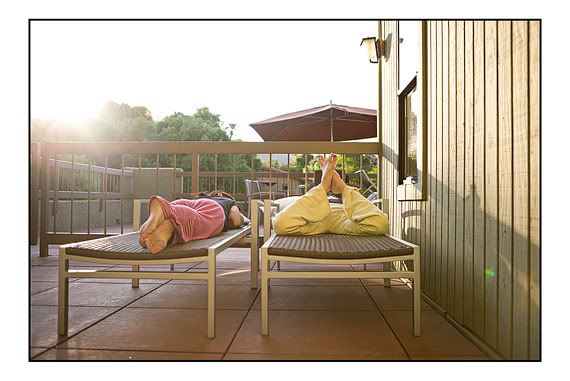 Seriously. So much fun.
For those who went--what were your top three of this trip???